Top 11 Best Places to Visit in Jaipur 2021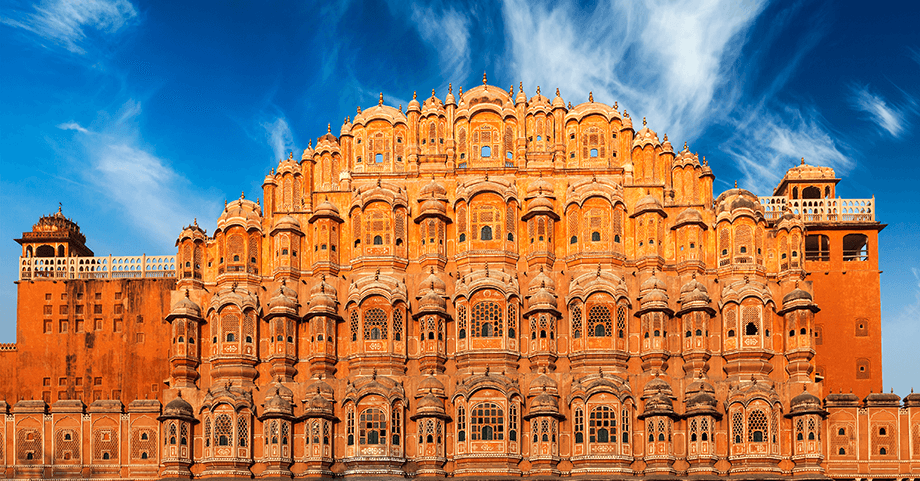 Moving on to the next city after the famous places to see in Udaipur, Jaipur is known as the 'Pink City.' The city is famous for its Forts and marvellous architecture that flaunt the expertise of old artisans. It is also the most famous tourist destination in the western part of India.
 
The flamboyant lifestyle of the past rulers in India will leave a captivating impression on you. If you are a history and art lover, then Jaipur should be your next holiday destination. From a fancy ride on the elephant to scrumptious food options and from royal palaces to shopping for handicrafts, you can do so much at this beautiful place.
If this destination is in your list of holidays in 2021, then here are the top 11 places to visit in Jaipur, read on. 
Best Places To See In Jaipur 2021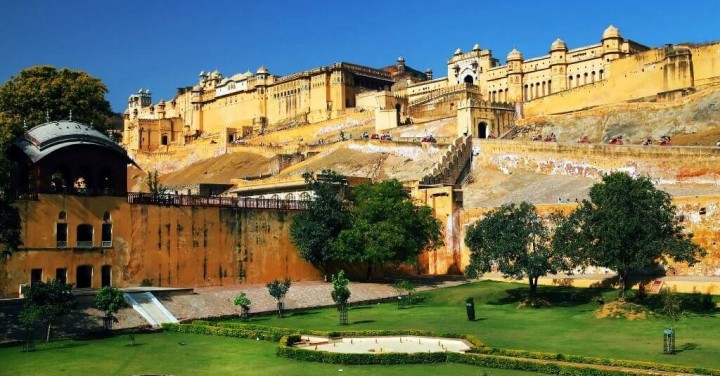 This fort is as splendid as the Golconda fort, which is one of the top tourist attractions of Hyderabad. Amber Fort, which is also called Amer Fort, is located 11 km away from Jaipur. It was built by Raja Mansingh in the year 1592 and was later expanded by Raja Jai Singh I. You'll get to see a blend of Hindu and Muslim culture, as the fort is constructed using marble and red sandstone.
There are many entrances to this spectacular Fort, however, the main entrance is on the east-side. There are four different courtyards here, and the most famous courtyard has a public audience hall known as Diwan-e-aam. 
You'll be able to enjoy an elephant ride with a light/sound show in the evening. Visit the Shila Devi Temple that is near the Amber fort. You can also savour some authentic delicacies on your visit here. The entry fee for local tourists is ₹25 and for foreign tourists is ₹200. 
Book Here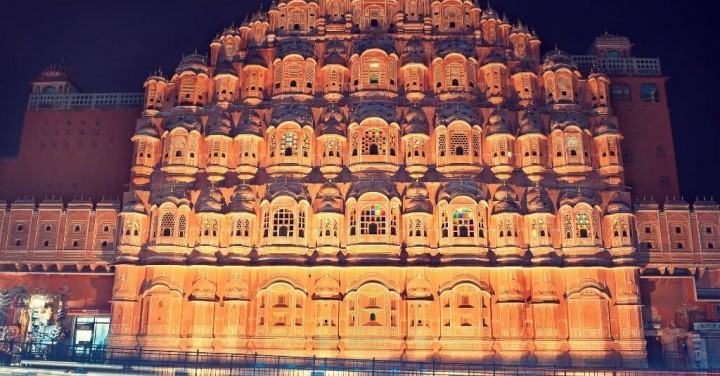 Hawa Mahal should be on the top of your list in things to see in Jaipur. It is an incredible presentation of architectural expertise of the past and was built by Maharaja Sawai Pratap Singh in the year 1799.
It is also called 'the Palace of Winds' as it has 953 open windows that provide excellent ventilation. There are no steps to reach the upper floors, as it's constructed uniquely. Different slopes connect different storeys of the palace. It was believed that open windows were constructed so that the royal women of Rajput could witness the various activities in the city.
The entry fee for local tourists is ₹10 and for foreign tourists is ₹50. Hawa Mahal is a picturesque wonder, so do click some pretty pictures of this place. 
Book Here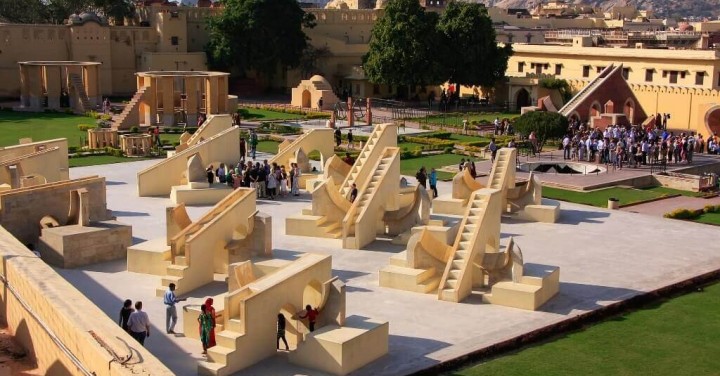 You must have heard about Jantar Mantar as its one of the magnificent Jaipur tourist places. It is unlike any other observatory you have been to and as the world's largest stone sundial.
Maharaja Jai Singh II had built this observatory as he had a keen interest in astronomy and architecture. This is one of the five observatories built by Maharaja Jai Singh II, the others are in Delhi, Ujjain, Mathura, and Varanasi. Read this blog on the best places to see in Delhi to know more about the Jantar Mantar in Delhi.
The geometric devices that are available here are used for measuring time and observing constellations. The many astrological instruments attract astronomers from all parts of the world.
If you are an avid follower of astronomy and architecture, then you must visit this place. The entry fee for local tourists is ₹40 and for foreign tourists is ₹200. 
Book Here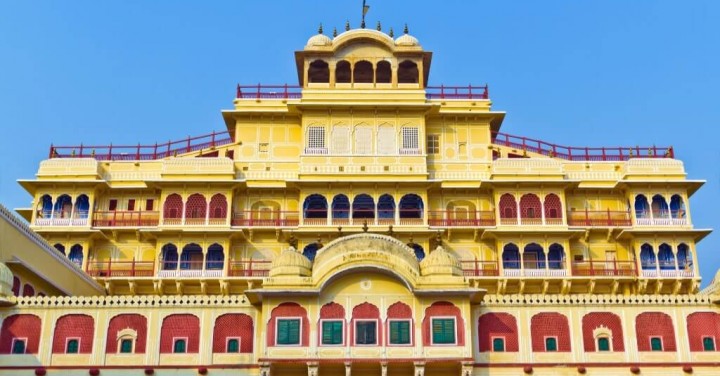 The palace name is synonymous with Jaipur city, as it is the best tourist place to visit in Jaipur. It was built by Maharaja Sawai Jai Singh II in the year 1727. There are two complexes namely; Chandra Mahal and Mubarak Mahal at the City Palace. Chandra Mahal has been converted into a state-of-the-art museum and is home to handicraft products that depict the cultural heritage of Jaipur. 
City Palace offers a sight of glorious architecture, and you'll be captivated looking at this marvel. The palace also offers the awe-inspiring view of the city. When you visit the place, you can enjoy a chariot ride with your family. The entry fee for local tourists is ₹200 and for foreign tourists is ₹700. The museum view would cost extra. 
Book Here
Nahargarh is an impressive fort overlooking the city of Jaipur. It was built as a defensive fort on the edge of the Aravalli hills. The place is a popular picnic spot as it provides stunning views of the city. If you are planning to go for a picnic in Jaipur, then you should head here. It is also popular for its 12 queen boudoirs that are well-connected and decorated with amazing murals. 
You'll be able to visit the famous Jaipur Wax Museum near the Fort. You can also enjoy the night view of the city from a restaurant near the Fort. Get an insight into the history of Jaipur by visiting Nahargarh. The entry fee for local tourists is ₹35 and for foreign tourists is ₹85. 
Book Here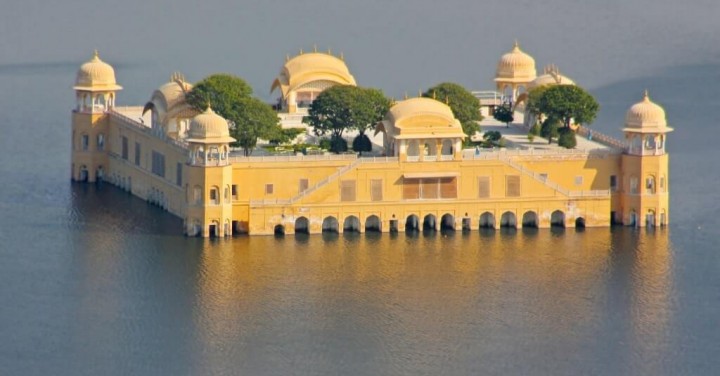 Amidst the Man Sagar lake lies the astounding wonder Jal Mahal. It's one of the most notable places to visit in Jaipur. Jal Mahal has a constant influx of foreign tourists, who visit this place to experience the glorious grandeur and mesmerizing architecture. The palace was built by Maharaja Sawai Pratap Singh in 1799 as a summer retreat and hunting lounge. 
The palace has wonderfully decorated hallways, and a lovely garden called Chameli Bagh. This is a fantastic romantic getaway and if you an avid bird lover, then you'll be able to spot many migratory birds like white-browed wagtail, grey heron, and blue-tailed bee-eaters.
You can shop for Jal Mahal carpets near the place and also enjoy a camel ride. Also, take long strolls near the pathways, as you'll feel peaceful. The entry fee for local tourists is ₹10 and for foreign tourists is ₹50.
Book Here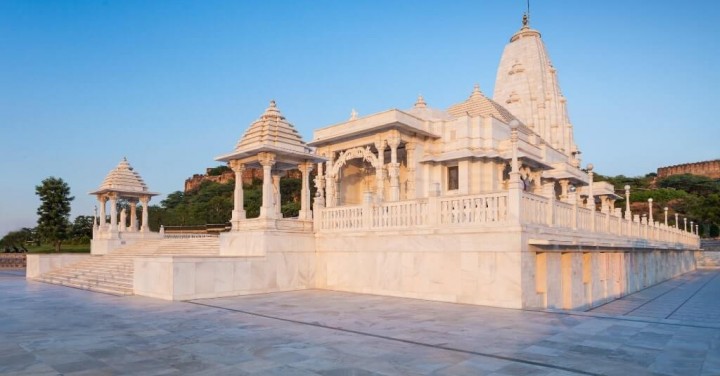 Birla Temple is built from white marble, and its enchanting beauty entices every tourist visiting it. The temple is adorned with intricate carvings and is also referred to as the Laxmi Narayan Temple.
It is one of the best places to visit in Jaipur. The inner walls of the temple depict various events associated with Hindu mythology. The outer walls of the temple have wonderful carvings of philosophers and leaders of the world. Once you seek blessings in the temple, you can shop for religious items at the Birla Temple shopping complex. Also, visit the Moti Dungri Ganesh Ji Temple.
Book Here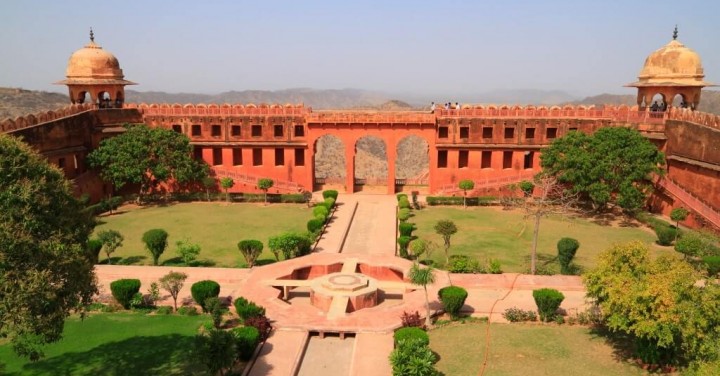 Jaigarh Fort is also called the 'Fort of Victory' and features one of the world's largest (oldest) cannon on wheels called 'Jaivana'. It was built as a defensive fort for storing weapons and artillery. It was the main symbol of the military powers of Rajput back then. The Fort had been a part of many indirect &direct famous historical wars and is highly fortified.
Jaigarh Fort is located near the Amer and Nahargarh Fort. When you visit this place, do visit the famous artillery museum. You'd also be able to enjoy the breathtaking view of the Lake Palace from this fort.
If you visit the fort early morning, you'll be able to catch a glimpse of the captivating sunrise. This fort is also a good place for photography. The entry fee for local tourists is ₹50 and for foreign tourists is ₹200. 
Book Here
Your shopping experience in Jaipur will remain incomplete if you don't visit the Pink City Bazaar. The place is shoppers paradise as it offers a range of Jaipur specialities. There are four main Bazaars – Nehru Bazaar, Bapu Bazaar, Johari Bazaar, and Tripolia Bazaar. Each bazaar is famous for different stuff.
Nehru Bazaar is famous for Jootis and woollens while Bapu Bazaar is famous for Jaipur textile goods. Johari bazaar is famous for semi-precious stones, whereas Tripolia Bazaar is famous for Jaipuri bangles and carpets. When you are done with shopping, you can savour authentic Jaipur delicacies at Laxmi Misthan Bhandar.
The pink city market is open on all days except for Sunday, though a part of the market is opened on Sunday. 
Book Here
This temple is dedicated to Lord Krishna and is the most popular tourist place in Jaipur. The deity of Lord Krishna was bought by Raja Sawai Jai Singh II to prevent the place from the destruction of Mughal Emperor Aurangzeb.
According to a popular belief, the idol in the temple is closest to the real appearance of Lord Krishna during his incarnation. The temple is frequented by local devotees. During Janmashtami and Holi, there is a constant influx of tourists from all over India. You'll feel a divine intervention when you visit this place, so ensure that you spend some quiet time in the temple. 
Book Here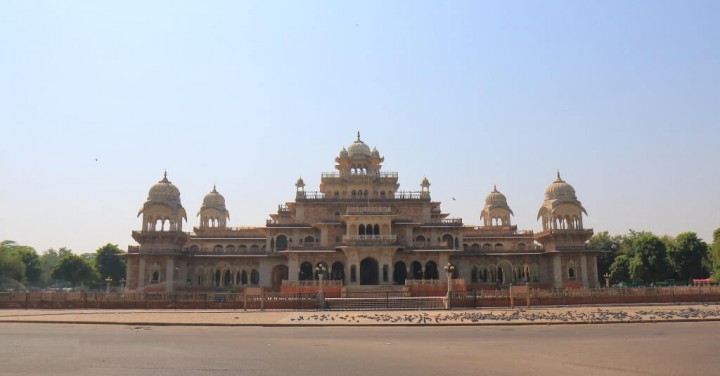 Situated in the old city and surrounded by the famous Ram Niwas Garden, this museum reflects the Indo-Saracenic style of architecture. It was named after the Prince of Wales, Albert Edward, in the year 1876, who laid the first foundation.
It is a major hub for art and culture exploration. The museum is home to many paintings and artifacts from different parts of India & Egypt and has gained prominence for concerts, festivals, and exhibitions in recent times.
You can also visit the nearby zoo or eat at the local restaurant. Take a horse ride around the pathways or stroll around the Ram Niwas Garden. The entry fee for local tourists is ₹40 and for foreign tourists is ₹300. 
Book Here
Final Word
Jaipur is a place where you can explore, enjoy, experience and ponder. It is one of the best destinations of India and will give you complete holiday vibe. So, plan your tour and visit the above places to make new memories. 
Explore More