Top 10 Best Resorts In Karjat For 2021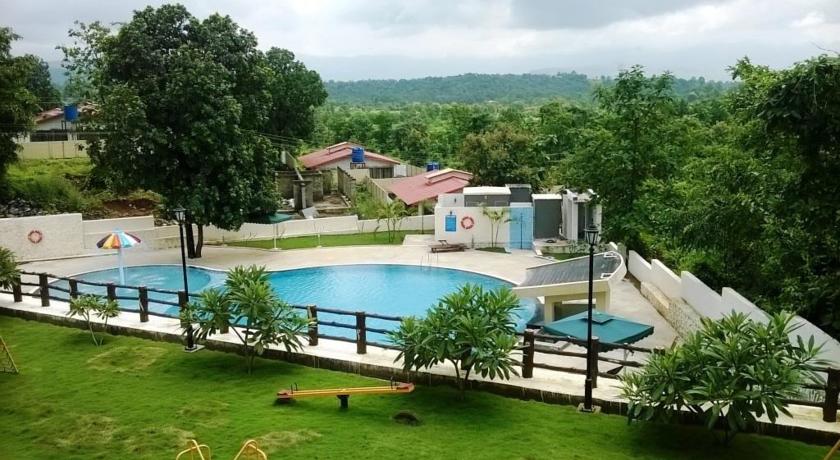 Karjat is a beautiful hamlet on the outskirts of Mumbai. It's the best place to spend your weekend on holiday with family. The place is surrounded by natural greenery and landscape views. During monsoon, you can also spot many waterfalls and small streams running through the mountains.
Monsoons are simply magical in Karjat. If you want to take a quick break, then you can head to Karjat – the most popular weekend getaway from Mumbai. Karjat is also a good place for adventure activities. You can plan a trekking trip with your friends to have an awesome time.
There are also plenty of accommodation options in Karjat to suit varying needs. Thus, if you are planning a trip to Karjat, then here are the best resorts in Karjat that you can check out.
Karjat Resorts – Top 10 Best Resorts near Karjat
This place is ideally located amidst the rivers and mountains to give you a spectacular view of Karjat. The décor and rooms are vintage styled so you'll get a different kind of a feel staying at this resort. If you want to spend some quiet time amid nature, then you can stay at this resort in Karjat. The resort has an in-house restaurant that offers a delicious fare.
Amenities offered include a SPA, indoor games, air-conditioned rooms, pool, garden, and a play area. Its located near the old Mumbai-Pune highway so you can reach the place quickly from Mumbai. It's an ideal place for a short vacation trip with your family.
For a hill station vacation, check out these best resorts in Mahabaleshwar.
Looking for a romantic getaway near Mumbai? Head to Crystal Homes Resort! This place offers you the best hospitality and luxury in your budget, thus making it a popular resort in Karjat. The enchanting views of Murbad landscapes will refresh you. While the warm hospitality and cool vibe of the place will help you relax. You can kick back and unwind in the beautiful natural surroundings of this resort.
The resort offers amenities like a picnic area, sun terrace, BBQ area with outdoor terrace, live music, cycling, karaoke, tennis court, games room, children's playground, and pool. It's a wonderful place to cherish great moments with your partner.
This Karjat resort offers you the finest hospitality so that your stay here would be amazing. The best part about the resort is it offers you an experience of a farm stay. This will surely give you memories that'll you cherish forever. The resort offers you a scrumptious vegetarian cuisine that'll titillate your taste buds.
Amenities offered here are an outdoor dining area, pool, free parking, and a well-maintained lush green garden. The resort is ideally located amidst the valley so you'll definitely enjoy your stay here with your family or friends.
This enchanting place is one of the most famous resorts in Karjat. The chalet style décor features many facilities that will provide you with complete comfort and ease. The lush greenery and serenity of the place will surely captivate you. The resort offers a restaurant facility so that you can indulge in some gourmet delight.
Other amenities include a conference hall, amphitheatre, swimming pool, BBQ area, children's play area, and a mini-game room. This place is ideal for a pet-friendly getaway, business conferences or for a weekend stay with family.
If you need to relax and rejuvenate, then this is an ideal resort in Karjat. The place offers breathtaking views along with lush greenery all around. You can have an amazing time with your loved ones here as the lawn garden is well manicured. The resort offers amenities like free WiFi, air-conditioned rooms, pool, play area, and game area. In short, you can call this place a perfect retreat for a quick holiday with your family.
Located near the river Pej, this resort near Karjat is close to the jungle, so its a great place for wildlife and nature enthusiasts. The resort is based on balanced eco-tourism; it'll give you an amazing sojourn of experience for sure. The resort offers amenities like wildlife adventure activities, free internet, swimming pool, and a separate children's activity area. It's ideal for group vacation and is close to many best places to visit in Karjat.
This resort spells luxury and offers you a captivating view of the Sahyadri Mountains and the Ulhas river. The hospitality of the resort is awesome and its a perfect place to rejuvenate
The resort has 102 rooms with a breathtaking view of the valley and an in-house restaurant with multi-cuisine options. From a romantic getaway to fun times with friends, it's a perfect place to make memories.
The resort offers amenities like a SPA, swimming pool, bar and play area. It's a fantastic place to wind down with your loved ones.
It's one of the best resorts in Karjat for a day trip. The resort has more than 15 fully-furnished and spacious rooms. The resort is ideal for a weekend getaway with your friends and family. You can choose this resort if you are looking for a budget resort in Karjat. Facilities offered are an outdoor pool, daily housekeeping, children's playground, and free WiFi. For other farm resorts near Mumbai, check out our list of resorts in Alibaug.
Want to make the most of your holiday? Visit Pinewood Resort. It's just 5 km away from the main Karjat station. The best part about the resort is lush greenery and plantations that make the place look magical. The resort offers amenities like conference hall, swimming pool, Water Park, rock and rope climbing. Its an ideal place for some fun time with your friends and family.
With a great blend of luxury and finest décor, Rivergate resort spells elegance. It is located 12 km away from Karjat. The resort has a rustic feel to it so it attracts many tourists. From corporate parties to destination weddings, from team gateways to adventures with friends, this is a perfect place for all occasions.
This Karjat resort offers amenities like adventure sports, outdoor games, party area, a SPA, amphitheatre, swimming pool and conference room. This resort near Karjat is great for weddings & conferences and to host a large get-together.
What's your choice,
If you are planning a trip to Karjat, then you can choose from the above resorts. Pick the one you find suitable according to budget and your need. And for those, looking for more options other than Karjat, here is a list of best resorts near Mumbai.