10 Best Resorts in Alibaug For A Fun-Filled Holiday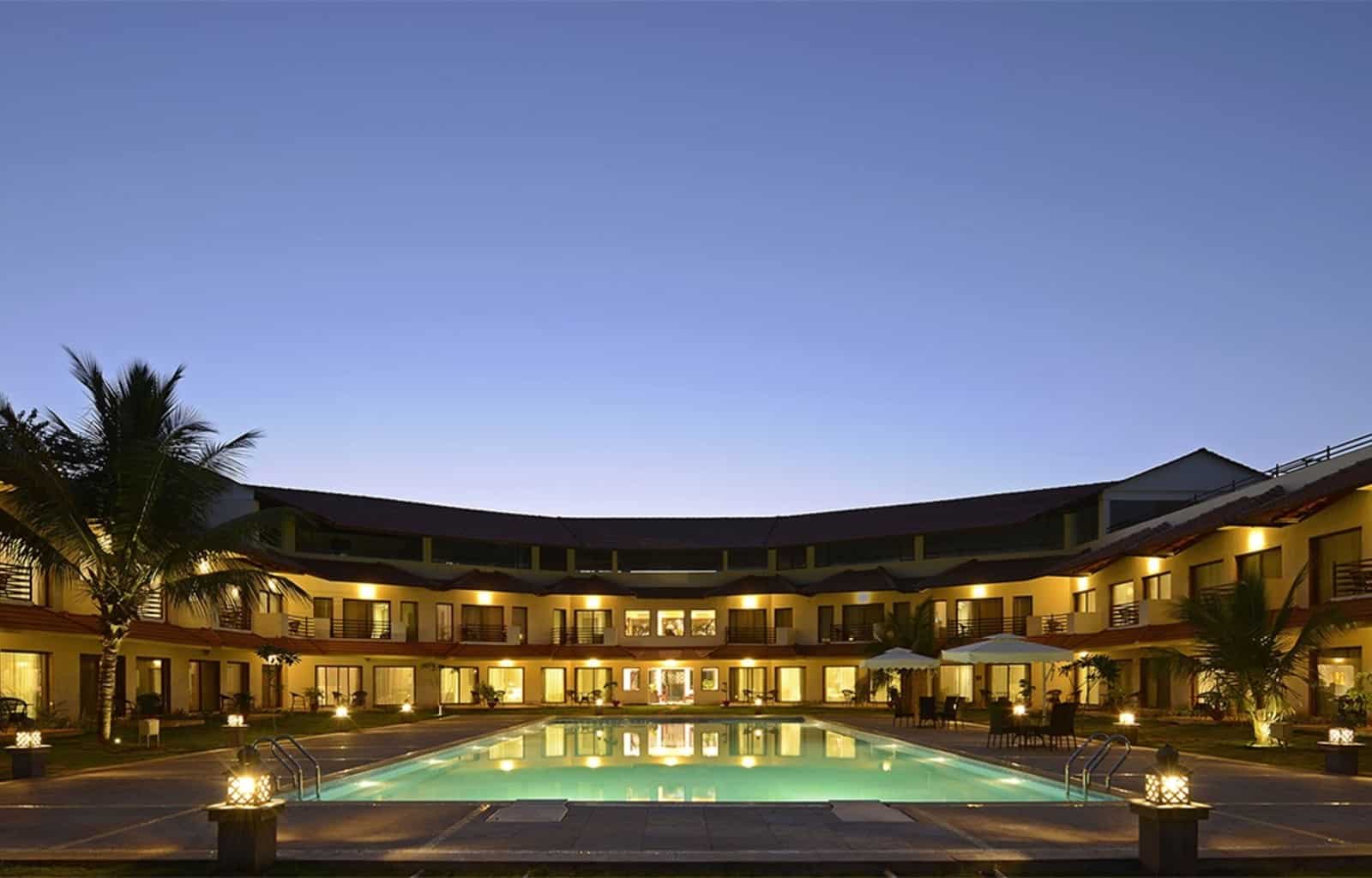 Alibaug is the most-sought after destination for weekend getaways near Mumbai and as such, here is a list of the best resorts in Alibaug for that much-needed break that you deserve.
This list comprises of the best destinations in and around Alibag and provides you with a wide range of options – from farm resorts and luxury resorts to off-beat resorts and quaint beachside cottage resorts that are just simply splendid.
Best part, these resorts near Alibaug are a combination of luxury amid natural surroundings. Plus, they offer you real fun activities that you can take part in, to make your holiday more memorable. Thus, check out this list of the popular Alibaug resorts and book a stay at Alibaug right away!
top 10 Best Resorts in Alibaug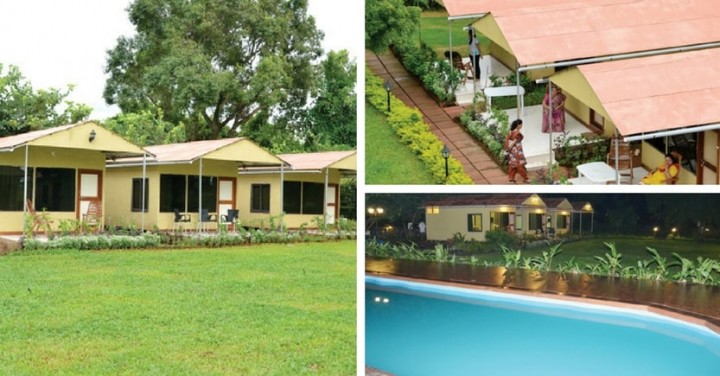 If you are looking for a getaway, wherein, you can party the night away with your family and friends, then this wonderful Alibaug resort is where you should head right now!
Secluded and encircled with abundant of greenery, this resort offers you accommodation in the form of individual cottages. Here, you can while-away your time going for long nature walks or spend the day relaxing at the pool. There are also ample of indoor/outdoor games available for your enjoyment. Moreover, it offers you choicest vegetarian cuisine that is sure to delight your taste buds.
From a separate kids play area to a common dining hall and well-maintained facilities, this resort is ideally suited for both family with kids and a group of friends. Thus, book this cottage resort in Alibaug now to make the most of your holiday.
Customer Review:
Very comfortable stay. Would like to thank the host for the great hospitality. The amenities provided was as described and the cottages were neat and clean. A great resort for a family picnic felt like a home away from home.
Timothy N, Travelled in December 2017.
Book Here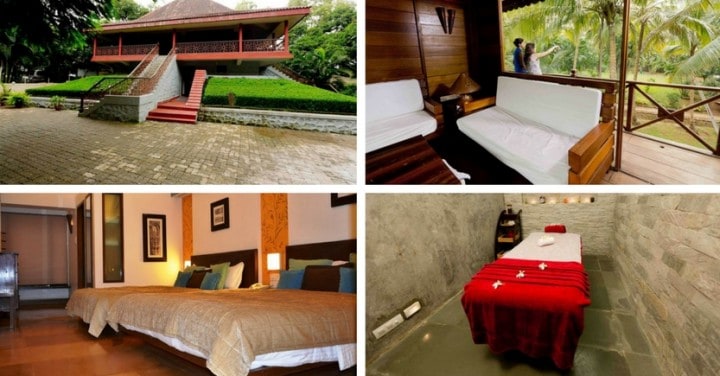 The list of the best Alibaug resorts would be incomplete without the mention of this stupendous stay. Boasting of luxurious facilities like spa, yoga centre, a tree house, a conference hall and more, this resort in Alibaug is best suited for group getaways, corporate events and others.
While the interiors and bedrooms are impeccably designed with comfortable furnishings, the outdoor area is immaculate with well-maintained gardens fitted with swings. There is also a swimming pool to enjoy a quick refreshing swim. Plus, this resort is close to many famous landmarks in Alibaug. Thus, if you are seeking a getaway that offers unwavering peace alongside the best facilities for a comfortable holiday then this boutique resort near Mumbai is just what you are looking for.
Customer Review:
Had the most refreshing weekend with my best pals at this amazing resort. The SPA service provided here is superb and holistic, the food was simply delicious and the entire resort had a calm and serene feel to it. A must-visit place for a rejuvenating time. Highly recommended!!
Sakshi Shah, Travelled in February 2018
Book Here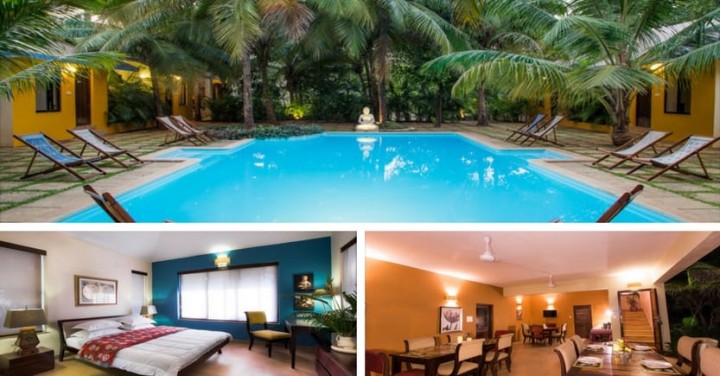 Another best resort in Alibaug, this property is located near the Awas beach which is a lesser-known beach in Alibaug known for its pristine stretch of unexplored seashore. The resort, in question, is a beautiful stay with luxurious interiors and well-manicured outdoor area. Facilities provided include a swimming pool, SPA and unlimited cocktails and snacks.
This resort is a great choice for couples, a group of friends as well as family with kids and can easily accommodate a group of up to 20+ people. Serene with pleasant environs and surrounded by coconut groves, book this stay if you are missing the adventurous Konkan beaches and for a relaxing holiday away from the cacophony of urban chaos.
Customer Review:
Best resort for a private party with your friends. Booked this place for a birthday party and we had a blast. Great food. Close to the beach and complete privacy. Enjoyed our stay here!
Chinmay. N, Travelled in January 2018
Book Here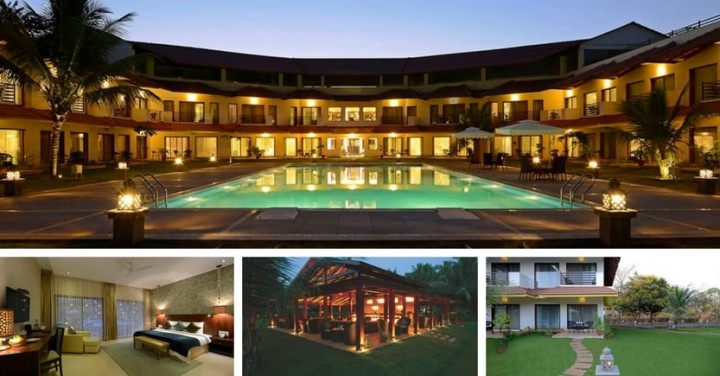 Kihim beach is one of the best beaches in Alibaug and this resort, located close to this beach, is a splendid stay that offers you impeccable service, world-class facilities and gourmet cuisine that will leave you wanting for more. The resort features 32 deluxe rooms and 4 luxuriously appointed private villas. The outdoor landscape is extensive with tropical gardens and you have access to amenities like SPA, in-house gym, gaming area and much much more.
This luxury resort in Alibaug with swimming pool is a great choice for honeymooners/couples as well as family. Thus, if you like what you see then wait no longer and make use of the contact form on your right to book now!
Customer Review:
A fabulous resort in Alibaug, great for celebrating a special occasion. The rooms are just superb and the view is fabulous. Overall an amazing experience.
Nitesh R, Travelled in November 2017
Book Here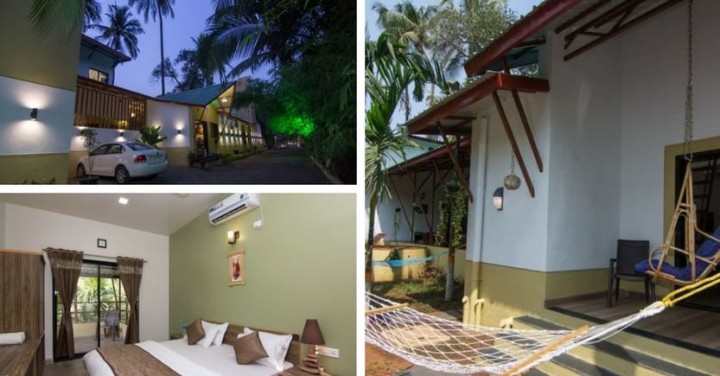 For those searching for resorts near Nagaon beach Alibaug, here is a beautiful beach farm resort that you can book right now for a quick weekend break. Providing you with a serene view of the blossoming garden right from your bedroom, at this farm resort you can host a BBQ party or have a beach party arranged for you on demand.
This comfortable stay offers you amenities like well-furnished rooms with AC, outdoor dining area, well-maintained lawn with hammocks and more. Best part, since this resort in Alibaug is close to the beach, you can also engage in activities like boating, paragliding, beach bonfires and more.
Customer Review:
A fantastic stay for weekend with friends.! We were a group of 8 and we absolutely enjoy and loved it here. Very near to the beach. Helpful staff and the barbeque and bonfire party arranged for us was simply awesome!!! A must-visit if travelling to Alibaug.
Dia Mallik, Travelled in March 2018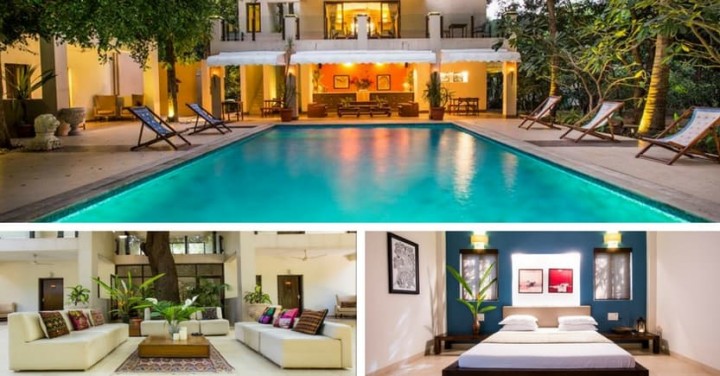 One of the finest Alibaug beach resorts, if you want to enjoy tranquillity amid luxury then this vacation rental is tailor-made for you. Offering you top-class amenities with well-designed bedrooms, this resort is built on a large landscape offering you complete privacy, wherein, you can kick back and relax in solitude. This resort has an outdoor swimming pool with sun loungers and provides you with some of the best cuisines you'll ever have.
What's more, this property is close to the pristine Kihim beach and as such, you can indulge in water sports activities like surfing, kayaking and banana boat rides. Therefore, for those searching for a luxurious holiday rental around Mumbai for a quick break, this little tropical paradise could be the answer.
For more information, click here!
Customer Review:
We stayed at this property for 2 nights and had the most fun.!! The rooms were spacious. Lovely ambience.! The staff friendly and helpful. The pool was clean and meals offered was just simply delicious. Had a pleasant stay looking forward for another stay next year.
Shikha. D, Travelled in April 2018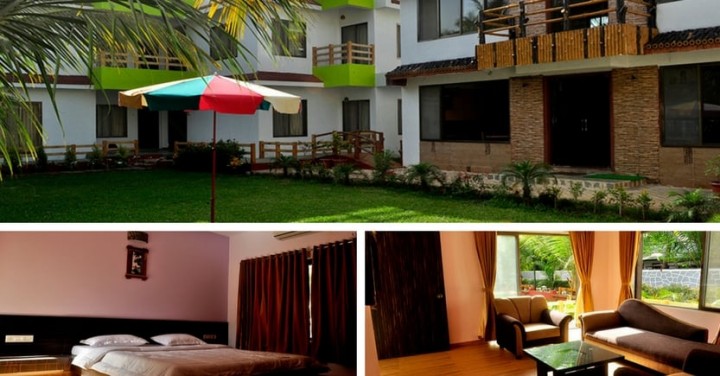 A perfect retreat for partying with family and friends, this Alibaug resort is the most sought after stay, thanks to its close proximity to the beach. From modern amenities to a multi-cuisine restaurant to separate kids play area, this resort offers you luxury at its best combined with pleasant environs that will chase your stress away.
Best part, there is a large outdoor swimming pool available at this resort. Plus, it comprises an indoor gaming area that will keep your kids happily engaged. So if you are looking for the best place to stay in Alibaug, then this resort at Varsoli is an ideal choice for a weekend getaway.
To book this stay, go here!
Customer Review:
I had an amazing experience at this resort. Nice location. Highly recommended for people planning an over-night picnic.
Abhijit Shirke - Travelled in May 2017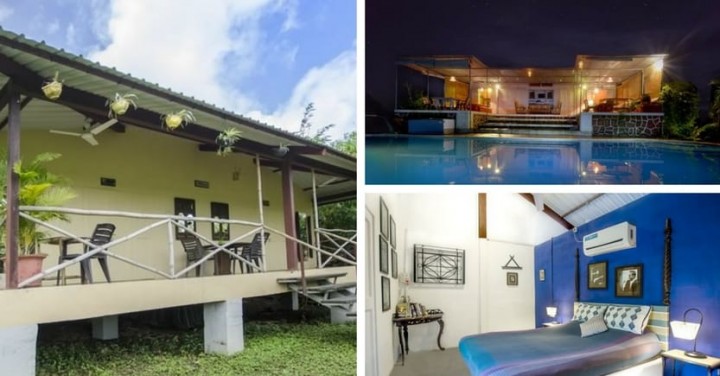 If you are looking for an off-beat retreat from the usual resorts near Mumbai then here is a rustic-style resort near Alibaug that you'd love. Encircled by natural beauty, this holiday rental is a pet-friendly getaway and is also a great choice for a family with kids. It provides you with all necessary amenities and the accommodations are in the form of well-furnished cottages.
This rustic lodge-style resort is also close to an animal sanctuary, thus making it a great holiday spot for wildlife enthusiasts. Here, you can partake in veg and non-veg cuisine prepared from fresh farm-grown produce. Plus, with a swimming pool, plenty of outdoor/indoor games and hammocks peppered around the resort, this stay is worth every penny you spend.
Click here for more information!
Customer Review:
I recommend every family to stay at this resort when they visit Alibaug. The place is clean and well maintained. Very good atmosphere & food was also excellent
Prathamesh Iyer Travelled in October 2017
Offering you a stunning view of the golden sand beach, towering mountains and miles of lush green forest, this resort near Kashid beach Alibaug is one of the best romantic getaways and is also an ideal vacation spot for a team outing or a one-day picnic with family and friends.
Comprising of individual cottages, this stay is a great destination for nature lovers. Here, you can go for long nature walks, hiking trails or just camp out on the beach under the twinkling stars. From fun indoor/outdoor activities to on-site cook, this resort exhibits casual elegance and as such, this is a great vacation rental for a
laid-back holiday.
To further information, go here!
Customer Review:
The best resort I have ever been to! This place is very serene and beautiful beyond compare. It's away from all the chaos, located in a quieter place. In one word this place is just 'WOW'!!
Shiraz M Travelled in December 2017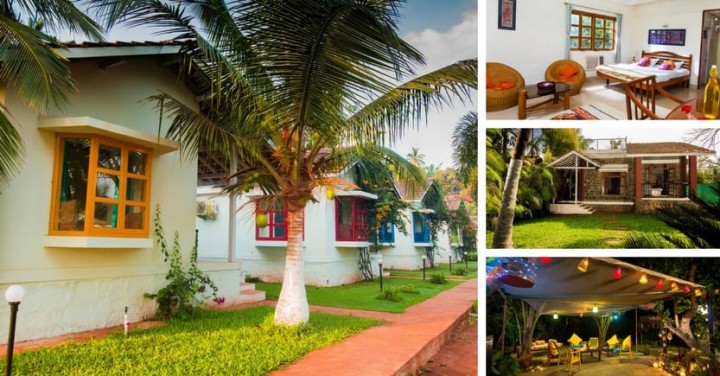 Have the ultimate holiday experience with family and friends at this beachside resort that offers you comfy accommodation alongside delicious home-made Konkani delicacies. The accommodation is divided into individual bungalows and villas. This ensures complete privacy and the freedom to enjoy your holiday as you deem fit.
In-house facilities include TV, internet connection and 24/7 staff. This resort is also close to one of the best places to visit in Alibaug i.e. the Kankeshwar Devasthan. Additionally, it comprises of impeccably manicured grounds with ample of open space where your kids can run and play around freely.
So, if you are dreaming about sun-drenched shoreline amid peaceful environs then this resort in Alibaug is just what you need!
Click here, to book now!
Customer Review:
An amazing place to stay in Alibaug. This has been my second visit here. Lunch, dinner and breakfast is good. The rooms are beautiful, clean and tastefully decorated. Just love this place!!
Kartthik P Travelled in November 2017
#Conclusion
When travelling to Mumbai, Alibaug is one of the best places to visit in India. It is an all-inclusive getaway that offers you the widest range of options when it comes to sightseeing, beaches or accommodations. These Alibaug resorts are the best of the lot and a great place for holidaying with your family and best pals. Plus, these are a great choice for individuals who are looking for a short break from the city life.
So go ahead and take your pick and indulge yourself with a relaxing holiday now!