12 Best Resorts In Panchgani for 2021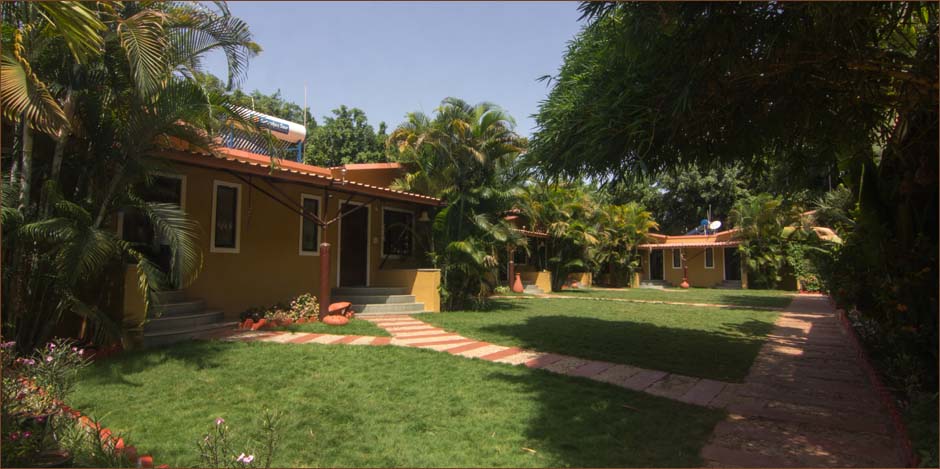 Panchgani is a splendid place to spend your holidays. It's a hill station that is nestled amid the beauty of nature and has lush greenery all around. It is a great place to unwind and to take a quick break from the chaos of city life. This popular weekend getaway from Mumbai is encircled with forests and mountains; it's a excellent holiday spot if you want to spend some alone time.
Its also a good place to let your creative juices flow, most writers visit this place for inspiration. If you are planning to visit Panchgani with family or friends, then you should choose the best resort or accommodation in Panchgani. As such, here is a list of best resorts in Panchgani that offer comfort with value for money.
Best Resorts in Panchgani
Ideally located amidst the valleys, the décor of this resort has an amazing vibe. The resort provides complete comfort, luxurious hospitality and entertainment so that you don't get bored. Also, the individual rooms and cottage-style structure makes this Panchgani resort different from the others.
It's an offbeat place that'll provide you with all the facilities. The best part about the resort is the music area. You can groove to some terrific music and dance your heart out or even have a disco and DJ night. The resort offers amenities like swimming pool, play area, indoor gaming zone, mini-movie theatre, disco, and Jacuzzi. It's a impressive place to spend time with your lovely family or to host a seminar or an event.
This Panchgani resort is near Pune-Panchgani road, so most tourists from Pune visit this place on weekends. If you want to spend some quiet time with your partner or looking for a romantic getaway, then you should head to this resort.
There are multi stay-options at this resort with one luxury heritage bungalow that offers 13 rooms. You can book this for an extended family vacay. The resort offers first-rated hospitality and facilities.
Things you can do here include; paragliding, cycling and horse riding. They can also arrange a magic show on demand and there a variety of indoor games available to keep you engaged. This resort is ideal for a holiday with a large family group.
How about an experience of staying at the farms and exploring the forest area? Well, this is quite an adventurous place for people who like to stay in offbeat places. The resort is located close to the forest to give you a breather from routine. You can also enjoy pollution free air here.
You can view the magical Krishna River and landscapes from this serene place. You'll also get an insight into organic farming here. The resort offers amenities like boating, bonfire and bullock cart rides. It's an amazing place if you want to get a village vibe.
If you are searching for more options related to farmhouse resorts near Mumbai, then check out our blog on the best resorts in Alibaug.
If you like to stay at places that exude luxury, then this is the right place for you. It's one of the most popular resorts in Panchgani. The whole setup, décor, and lawn area of the place are tastefully done. It's a superb place to spend some time with your family or your partner.
It's just 10 km away from Chocolate Park. The resort also has an in-house restaurant that serves delicious fare. The resort offers amenities like a pool, air-conditioned rooms, internet, fitness room, massage therapy, and nightclub. So, you are bound to have an amazing stay here.
Going by the name, you must have guessed that the place is located in the midst of glorious landscapes and greenery. The resort is a wonderful place for weekend fun with friends and family. The resort has 34 rooms that are well-equipped with modern facilities and has striking décor. Booking a stay here during winter, which is the best time to visit Panchgani, is ideal.
Personalized balconies and garden lawn are the best places to hang out with your friends. The resort also has an outdoor wedding hall and business conference hall. Amenities offered include; a recreation centre, pool, children's play area, luxury rooms, and spa facility. The place is perfect for business conferences and for an extended family holiday.
This resort spells luxury and is one of the best resorts near Panchgani. Its a perfect blend of the royal era and contemporary décor. The best part about the resort is the stunning lawn and lobby front. Here, you can spend hours admiring nature in complete solitude.
You can experience the magic of jungle exploration if you are an adventure seeker by staying at this resort. The resort also has a karaoke area if you love to sing. Facilities offered are; in-house restaurant, laundry service, WiFi, pool, and doctor on call.
If you want an experience that you can cherish for life, then you must visit this resort in Panchgani. It's a perfect offbeat place to spend some quiet moments with your dear ones. The décor is done in a Victorian style that'll have an enchanting effect on you.
The resort has four exclusive rooms with an open patio that opens up to the view of the breathtaking mountains. You can have a date night with your partner here. You can also bring along your pets, as this resort is a pet-friendly getaway.
The resort offers amenities like a horse stable, children's play area, BBQ area, and a green lawn. It's the best getaway and holiday spot if you need a break from the mundane.
Most tourists visit Panchgani to revive from health issues. The air is clean and pollution free so its a great place to be. This resort has a magnificent view overlooking the Krishna valley. The hospitality of the place is awesome and the service is good.
It is also one of the top-rated Panchgani resorts. You can plan a trip with your special someone to enjoy a mystical stay here. Facilities provided are internet, fitness centre, yoga centre, spa, bonfire and conference hall. To unwind and refresh your energies, this is the best place to be.
Rainforest villas is a resort that houses every facility and is close to many tourist destinations in Panchgani such as Sydney point, Parsi points etc. The resort has comfortable and luxurious rooms and the open balcony gives you a clear view of the valleys around.
Just standing at the spot you can experience cool breeze. The resort also has an in-house restaurant that serves delectable cuisine and amenities include open-air pool, kids play area, internet access, and health care centre. It's a soothing place where you can spend some memorable time with your partner.
If you are a nature lover, then this place is just for you. Encircled with stunning landscapes and mountains, the view from the resort is simply breathtaking. It's a fabulous place to seek some inspiration for your work and the lush greenery all around is the treat to the eyes.
The resort offers amenities like a restaurant, kid's area, bonfire, party lawn for karaoke nights, tents and more. For a quick family getaway, this place is ideal as this resort is in the list of most popular resorts of Panchgani.
This is a famous resort in Panchgani located at the foothills of the mountain. The resort offers you the best hospitality and its like home-away-from-home. The wonderful valley views of the place have a captivating effect on every tourist.
It's close to the Panchgani market place so you can access every tourist spot. You can spend quality time with your near and dear ones playing around and clicking some pretty pictures. It's also an amazing place for a weekend getaway from Pune.
The resort offers amenities like play area, conference hall, jogging track, outdoor pool, bonfire, and garden. This place is also good for small events, wedding, birthday parties, corporate meetings among others.
If you are planning a team getaway, then here are some team building activities that you can try.
It's perhaps the most chilled out place to stay in Panchgani. The lush green surroundings and valley offers you a picturesque view. The retreat is tastefully done so that you can completely relax and refresh. The resort offers amenities like a restaurant, games room, garden, outdoor pool, and internet. Its a perfect budget resort in Panchgani to holiday with your family.
#What is your choice?
Panchgani is a splendid place that is endowed with the raw beauty of nature. Spending some days here will help you relax and rejuvenate. You can also book a resort in Panchgani according to your budget and choice. Also, if you are looking for resorts in other locations than Panchgani, then here is a list of the best resorts near Mumbai that you can check out.
Have a great time with your loved ones!